services

---
As a marketing communications consultant, I specialize in projects involving the written word, website design and construction, and marketing administration. I have developed diverse technical and creative skills, an advanced educational background (including an MBA), first-hand exposure to many industries and organizations, and a high-energy, entrepreneurial business approach.

Please contact me today to discuss how I can help your organization. I look forward to hearing from you.
The services I offer include:
Whether preparing concise customer testimonials, persuasive position statements, or in-depth, instructive white papers, I've helped people inform, motivate, and inspire their clients, customers, and constituents. I can compose copy for a wide range of written communications needs.
Click here
to view samples of my work.
In addition to my professional copywriting experience, I offer strong editorial skills. I have served as an editor throughout my life, whether coordinating team projects, helping community nonprofit organizations with their writing needs, or reshaping the newsletter for the Montgomery County (PA) Master Gardeners and Master Composters. To view a sample of my work as the volunteer editor and desktop publisher of
The Seed Leaf: The Newsletter of the Montgomery County Master Gardeners
, click below (to access the scanned pages individually):
Not long ago, website maintenance became a fundamental job responsibility of marketing and PR specialists. So I added basic website design and construction to the marketing communications services I offer. Since public relations and customer information is the primary objective of many websites, I specialize in developing targeted, attractive websites for small businesses and organizations that need a "brochure on the web."
The web-related services I provide include: writing and editing the copy on your site, designing the graphics and page layouts, and composing advanced HTML code. I will also perform many webmaster duties, such as:
helping you select an internet service provider,
uploading files to the web server,
configuring POP email accounts,
creating automatic response messages,
registering your site with leading search engines.
I can help you publicize your organization on the web for the entire world to see!
Click on the links below to view some of the websites I have created (in addition to my own site, kimberwerk.com):
Many Hands Art Show and Silent Auction (archived copy)


Concerned Citizens of Milford Township (archived copy)


Maza for State Senate (archived copy; campaign website deactivated after the election)

This site was awarded a top ten ranking from PoliticsPA as one of the best campaign websites in Pennsylvania during 2002. PoliticsPA asked a veteran website developer (who has designed a number of political websites for federal, state, and local races) to contribute to this feature.


Pennsylvania Department of Education: 2000 Pennsylvania Governor's Institute for Environment and Ecology Educators (archived copy; site now inactive)

Always eager to take on a new challenge, I began my marketing communications consulting career in 1995 with a special project.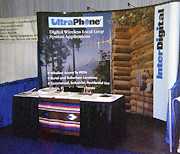 I supervised the design and production of a transportable exhibition display for an international sales representative of a digital wireless telecommunications company. To showcase the product to best advantage, I organized and supervised a photography shoot in rugged and remote Montana.
My telecom client also wanted me to establish a marketing information resource center to monitor the competitive environment and industry trends. Working quickly, I created the resource center and completed the tradeshow booth in under three months—with no overtime.
More recently, a financial advisory firm asked me to interpret and recast, in plain English, complicated relocation guidelines for its clients in a Fortune 50 company. Although this assignment was unrelated to advertising and promotion, I was glad to tackle it.
In addition to communications-related projects, I have also completed large technical editing, job profile creation, and skill mapping assignments for the corporate training division of a major computer hardware manufacturer (working as a subcontractor). I was required to accomplish these tasks transparently while filling in for a human resources professional during her extended maternity leave.
As you can see, I'm highly versatile...so, if you have a special project that you are reluctant to handle, just ask me!